Chairman Li Ruohong had working talks with the delegation led by the Ambassador of Turkmenistan to China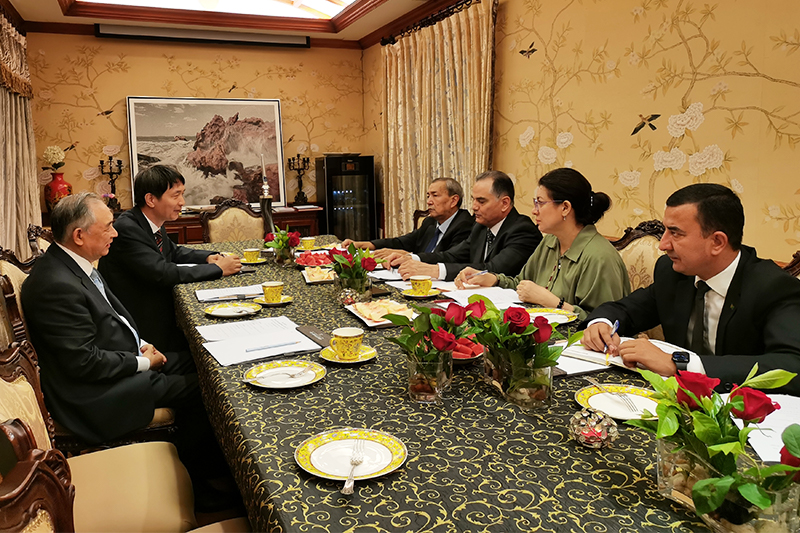 On August 4, 2023, Turkmenistan Ambassador to China H.E.Dr.Durdyev and his delegation visited the Peace Garden Museum to discuss the details of cooperation with Chairman Li Ruohong of the China World Peace Foundation and the Beijing International Peace Culture Foundation about jointly hosting the 10th "Peace Garden Peace Festival" and the 5th Global Youth Photography Competition in 2023.
Chairman Li Ruohong talked about the achievements of his participation in Turkmenistan's presidential activities, talks, visits, and inspections a month ago, and thanked the people of the country for their warm and friendly reception.What's more,the theme and organization of the 10th "Peace Garden Peace Festival" and the 5th "Global Youth Photography Competition" held with UNESCO this year were introduced to Ambassador H.E.Mr. Durdyev and his delegation.H.E.Ambassador Durdeyev expressed his gratitude to Chairman Li for his efforts in promoting mutual understanding between the two countries. He was delighted to hear that Chairman Li Ruohong was able to conduct in-depth visits and inspections between the governments and the peoples during his visit to Turkmenistan. The traditional hospitality of the Turkmenistan people has a long history. We support the "Peace Garden Peace Festival", and the recent Xi'an Six Nation Conference has also reached a consensus on the current state of peace. We informed the United Nations special forum on the theme of "Dialogue is the Guarantee of Peace" that we will participate in, stating that although there may be multiple proposals, the core is consistent and the concept of action is consistent, that is, common development for the next generation and the future. We have made this year's "Peace Garden Peace Festival" a valuable asset while maintaining our previous close cooperation. We have also planned for future cooperation in cultural and economic aspects.