EU SME Center Director Mr. Isler Visited Peace Garden
On the afternoon of March 11,Mr. Isler, director of the European Union Centre for small and medium enterprises visited Peace Garden Museum, and made a constructive discussion with Dr. Li Ruohong, Chairman of China World Peace Foundation, President of Beijing International Peace Culture Foundation, Mr. Kang Jincheng, Council expert, special expert of UNESCO International Engineering Education Center on the cooperative prospect of scientific innovation and cultural interactivity between China and EU. Mr. Isler also attended the signing ceremony of strategic agreement between Beijing International Peace Culture Foundation and Beijing Architecture University .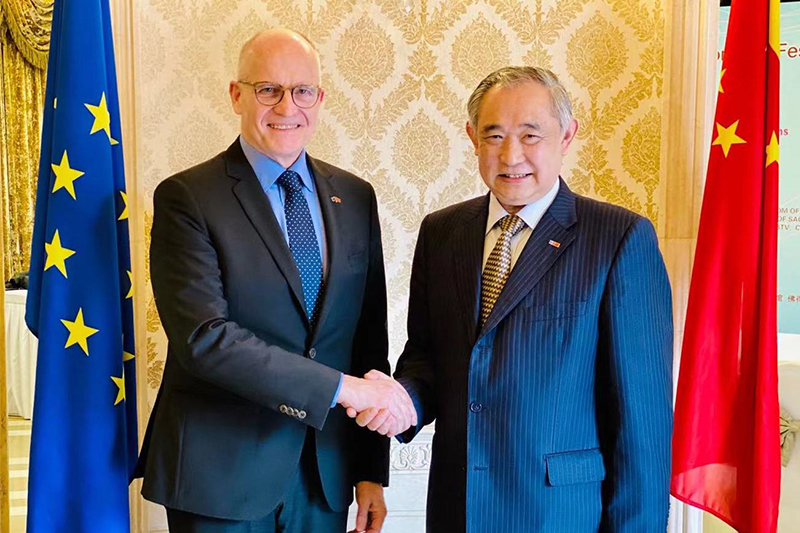 Li Ruohong said that in recent years, China EU relations have been heating up significantly. Last year, China surpassed the United States as the EU's largest trading partner. The signing of "China EU Investment Agreement" and "China EU Agreement on Geographical Indications" has strengthened the protection of intellectual property rights of agricultural products of both sides and laid a good foundation for expanding cooperation. It is very important to implement these agreements at the micro level . Li Ruohong introduced the international consensus gained by the Foundation's cooperation with UNESCO, governments and partners in many fields such as economy and trade, scientific and technological innovation and cultural interaction over the years. He also shared his views on the values and resource allocation of EU countries over the years.
Mr. Isler spoke highly of the Foundation's past achievements and agreed with Dr. Li Ruohong's views on the future cooperation between China and the EU. He introduced the functions and main business forms of the EU SME center. The main task of the center is to help SMEs in various industries of EU countries investing in China connect with partners in provinces, cities and regions, and provide counseling and consulting services for relevant enterprises.
The two sides agreed that the EU and China have many common interests and cooperation space in dealing with climate change, anti epidemic and economic recovery. It is necessary and important to build an exchange and interaction platform convenient for international small and medium-sized enterprises to "bring in and go out", which is conducive to the cooperation between the two sides in social responsibility, intelligent technology, education&training, culture&sports, modern agriculture, network information, manufacturing industry, think tanks and other topics of common concern. Both sides also planned to carry out feasibility study and operation scheme design for this concept as soon as possible in the near future.