On the morning of March 9, three leaders of China Overseas Friendship Association(COFA) held talks with Dr. Li Ruohong, chairman of China World Peace Foundation and president of Beijing International Peace Culture Foundation at Peace Garden Museum, to carry out a deep discussion on the topics of promoting the mutual contact between mainland Chinese and overseas Chinese in the new era, promoting the reunification of the motherland, revitalizing the cause of China, folk diplomacy and cultural interaction in the new international environment . They also visited the Peace Garden Museum, which is known as the cultural landmark.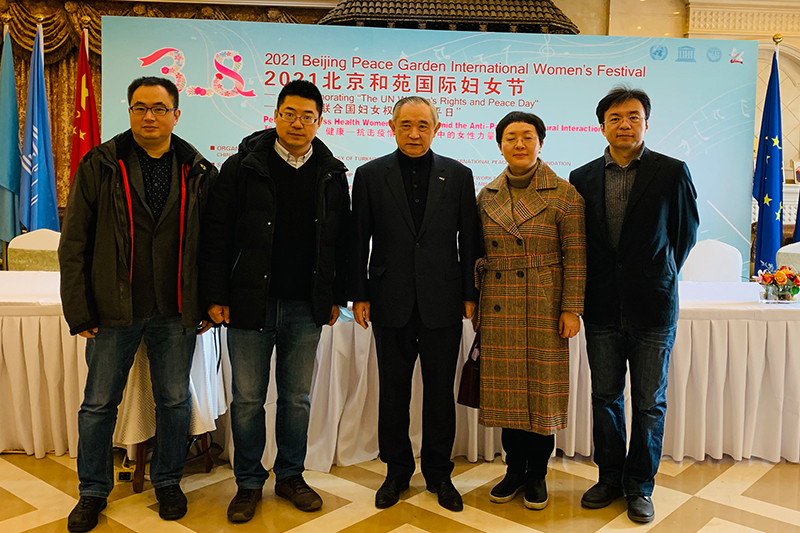 Dr. Li Ruohong introduced the peace public welfare which the Foundation have been cooperating with UNESCO, governments and partners in many fields to win the consensus of the international community, such as the "Belt&Road" cultural interaction map, the global youth photography competition, and Peace Garden Peace Festival. By way of global network and resource allocation, the conflicts are resolved peacefully by telling Chinese story to promote the vital innovation practice of global overseas Chinese . Dr. Li also introduced the key work plans of China World Peace Foundation and Beijing International Peace Culture Foundation in 2021.
Relevant leaders of COFA said that the resources, platforms and past practices of the Foundation are eye-catching and open-minded for the visitors. Civil diplomacy, civil publicity and overseas Chinese education are the priorities at present. They also hope to mobilize more social resources and work together in innovative ways and methods.
Both sides agreed that it is essential to build a good platform for civil diplomacy, and that various resources and forces should be gathered to create new models and mechanisms, eliminate misunderstandings and conflicts and promote world peace and development.