A Reception Party held in the Peace Garden Museum to Welcome Ballet Bacoulou of Haiti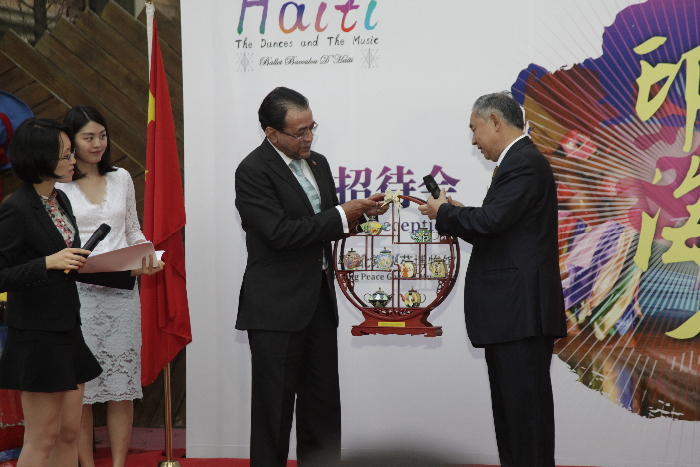 Li Ruohong, President of China World Peace Foundation exchanges gifts with Ralph LATORTUE, Permanent Representative of Commercial Development Bureau of Haiti to P.R China
On August 14, a reception party was held in the Peace Garden for Ballet Bacoulou of Haiti in order to promote the friendly relationship between China and Haiti. The event was co-organized by Commercial Development Bureau of Haiti to P.R China and China World Peace Foundation, and was supported by Belt and Road official website of china.com.cn, Beijing International Peace Culture Foundation and Beijing Peace Garden Museum.
Among those who participated in the reception were: Mr. Wang Xiangyang, Permanent Representative of P.R China to Haiti, Mr. Zhao Huimin, Director of Foreign Office of Beijing Municipality, Mr. Li Ruohong, President of China World Peace Foundation and Beijing International Peace Culture Foundation, Mr. Lu Qingsheng, Chairman of China-Africa Development Fund, Mr. Liu Fenghai, Director of Liaoning liaison office in Beijing, Mr. Zheng Jianping, Director of Shanghai liaison office in Beijing, Ms. Xie Yuhua, Secretary-General of Gansu Chamber of Commerce, Mr. Li Wusheng, Chairman of Orient Landscape, Mrs. Yvrose Green, Artistic Director and Director of Cultural Department of Ministry of Foreign Affairs of Haiti, Mr. Ralph LATORTUE, Permanent Representative of Commercial Development Bureau of Haiti to P.R China, Mr. Jean JEAN-PIERRE, Music Director of the Traditional Orchestra of Haiti and Mr. Peniel Guerrier, choreographer of Ballet Bacoulou of Haiti.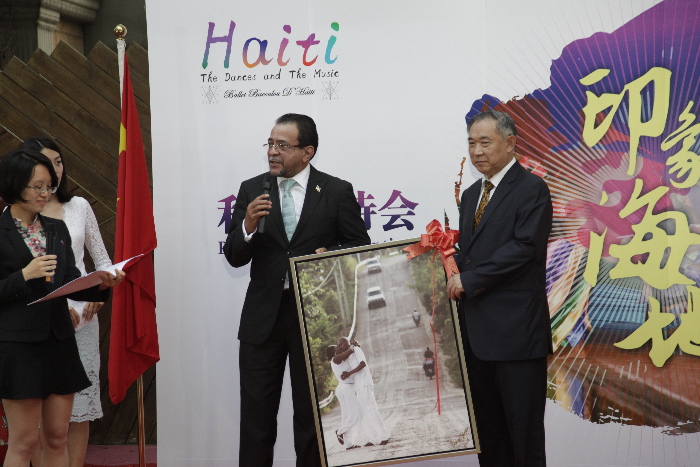 Ralph LATORTUE exchanges gifts with Li Ruohong
Li Ruohong said although Haiti has yet established diplomatic ties with P.R China, the hearts of two peoples are getting closer as the exchange of culture, economy and trade deepens between the two sides, and the gifts exchanged serve as a catalyst of our enhanced amity. During his speech, Li said the Belt and Road Initiative does not only apply to the 65 countries and regions along the route, it is also applicable for the whole world. Not long ago, China World Peace Foundation and UNESCO jointly carried out a cultural project entitled an interactive cultural atlas along the Silk Roads, and released Peace Garden Declaration in recognition of this endeavor. The program encompasses nine sectors, namely, Science, Technology and Know-how, Pharmacology and Medicine, Costumes and Clothing, Religion and Spirituality, Mythology and Fantasy, Languages and Literature, Arts and Music, Rituals and Celebrations, Food and Gastronomy etc. It is believed that the project will deliver a pragmatic cooperation to promote people-to-people connectivity.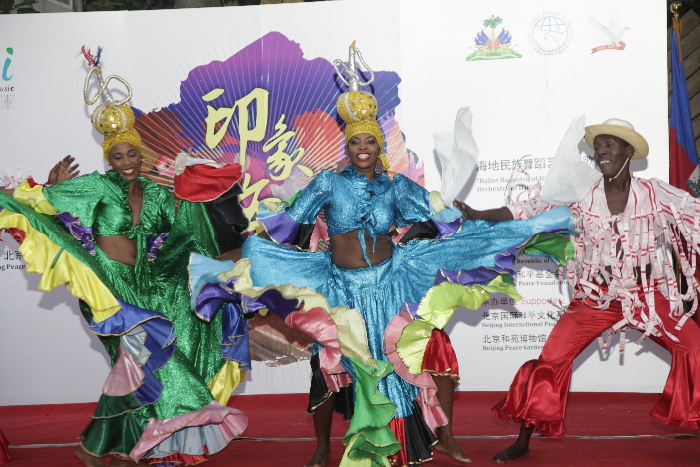 Excellent dancing brought by Ballet Bacoulou
Peniel Guerrier told journalists that it is hoped that the authentic dancing and singing performance brought for Chinese audience will elevate bilateral relationship and bring the hearts of two peoples ever closer.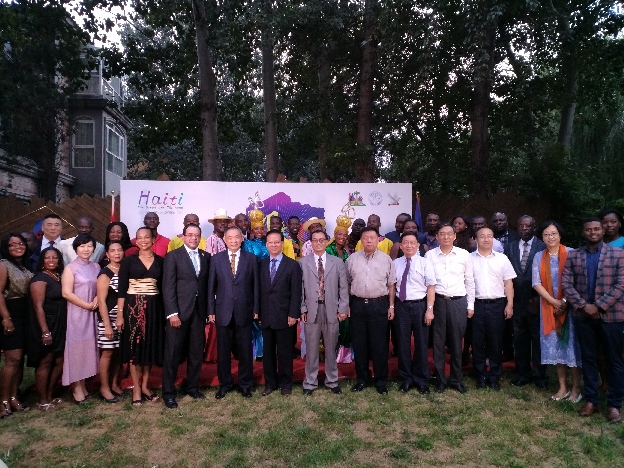 A group photo of guests and artists
Guests had an even deeper feeling of the charisma of Haiti and the red-hot hospitality from Ispaniola Island by dancing together with the troupe at the end of the show.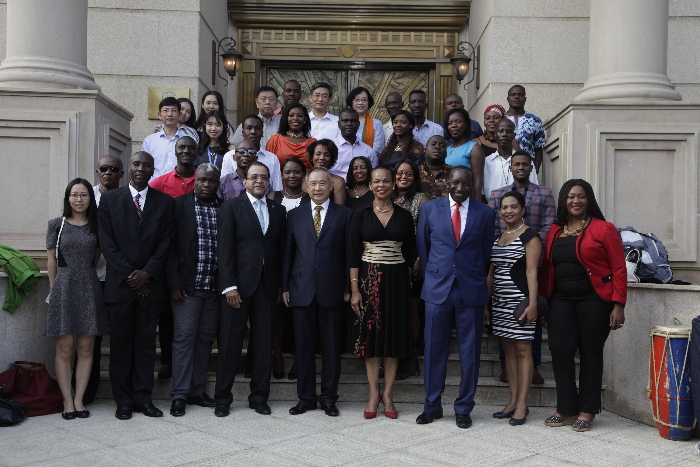 A group photo in front of the Peace Garden Museum
Wu Peihe, Director of Public Affairs Department of China World Peace Foundation told reporters that he was deeply impressed by the instrument and melody from Ballet Bacoulou. He hoped that more musical exchanges can be seen between the two sides and that more outstanding masterpieces featured by both cultures can be created, so that a bridge of music can be built to connect China with Haiti.
As an international NGO, China World Peace Foundation integrates resources from governments, businesses, academics and finances in an effort to boost friendly exchanges with governmental and non-governmental bodies. Committed in promoting reciprocal cooperation in international talents, technologies, information, capital and resources, China World Peace Foundation plays a major role in connecting people's heart through various cultural events.