Directors of Multiple Provincial and Municipal Offices in Beijing discuss Belt and Road cooperation at Peace Garden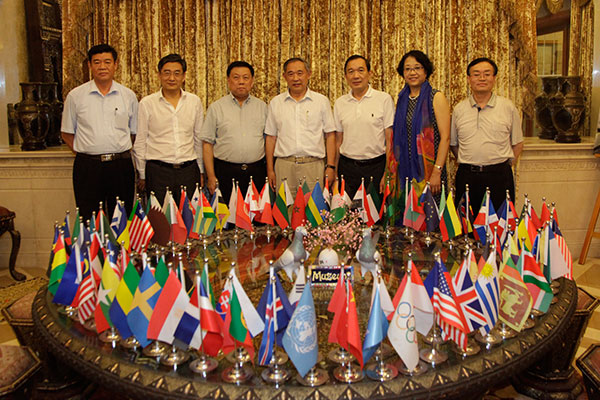 On the afternoon of July 18th, directors of provincial and municipal offices in Beijing representing Liaoning, Gansu, Shanghai, Guangxi, Shanxi and Heilongjiang and officers from Belt and Road official website affiliated to www.china.com.cn visited Beijing Peace Garden Museum where they held a discussion on how to pool each other's people-to-people diplomatic resources to promote international cooperation under the framework of Belt and Road Initiative with Dr. Li Ruohong, President of China World Peace Foundation and Beijing International Peace Culture Foundation.
During the meeting, Dr. Li gave an introduction of work development of both Foundations to carry out diplomatic public welfare and shoulder social responsibility. He also briefed to the guests an interactive cultural atlas of cultural interactions, a project co-sponsored by UNESCO and China World Peace Foundation, and the details of Peace Garden Declaration, a consensus crystallizing the progress in the meeting attended by scholars and specialists from the five continents for the project. This cultural endeavor is set to inherit the traditional heritage as a way to build a commonly prosperous society for the wellbeing of all mankind and attain the goal of sustaining development.
Liu Fenghai, Director from Liaoning office, Tan Yong, Director from Guangxi office, Xu Weixin, Director from Heilongjiang office, made positive remarks on the progress and achievement by President Li in promoting diplomatic welfare and shouldering social responsibility. They said, as a window, provincial and municipal office in Beijing needs to take concrete measures to boost local development. The Foundation may provide help in such areas as investment attraction, think-tank build-up, and poverty alleviation. Faced with so much abundant facilities, how to synergize between the foundation and provinces and municipalities, between enterprises, between departments, is a topic on which each delegate shall invest time and energy for a better answer. Each province and municipality shall engage themselves for the common good of their local community, and cooperation can start from small but actionable project so that deeper and more significant ones can ensue.
Xie Yuhua, Director of Gansu office, Zheng Jianping, Director of Shanghai, Chen Xiaodong, Director of Shanxi office, expressed the hope to collaborate closely with the Foundation to realize the go out strategy for domestic enterprises and promote regional economic development. They were amazed by Dr. Li's effort in bridging the cooperation between provinces, municipalities and the Foundation which full tapped the potential of respective strength for an optimization of resource allocation in a wider context under the framework of the Belt and Road Initiative. They said they were much inspired by Dr. Li, who is not only a diplomat but also a strategist. Director Chen Xiaodong said, as an inland province cut off from the outside world, Shanxi can achieve broader openness through Dr. Li's extensive networking and resources. Shanxi's local conditions must be integrated with the development request from local government. As a priority for Shanxi, poverty alleviation can serve as a start point of cooperation between the province and the Foundation. The fight against poverty can be facilitated by attracting social response and expanded influence from focused publicity of mainstream media.
Delegates also touched upon the topics of pooling respective strength from the perspective of economy, culture, sports, art, health, communication and infrastructure. Combing provincial and municipal forces with international ones will enable projects to develop and enterprises to flourish. It was agreed that anticipated objectives have been met by the members at the meeting and that the fruits will be reported back their superiors. More provinces and municipalities will join in the program to advance the Belt and Road Initiative and contribute to the fulfillment of expected goals.